Hi. My name is Shinya Murai. I head up R&D at Advanced Technology Lab.
This is my first contribution, so allow me to tell you a bit about myself.
I moved to ATL in October 2017. Previously I worked in product development and research at a medical care equipment manufacturer. My specialty sector is healthcare and my technical skills are in sensor development and data analysis. I like to think of myself as a "Healthcare/ IoT Full Stack Engineer." I was interested in creating new services in the health care prevention field, so I changed careers.
I recently attended the huge technology and innovation event, "Viva Technology 2019" ("VivaTech"), which was held in Paris from May 16th to 18th. In this report, I'm going to focus on open innovation. This is one of the key features of VivaTech and the themes here are of interest all over the world, not just in Europe.
Attractions of Vivatech
According to the VivaTech website, there were 124,000 attendees from 125 different countries this year. There was such a buzz – you wouldn't think this is already the fourth time this event has been held!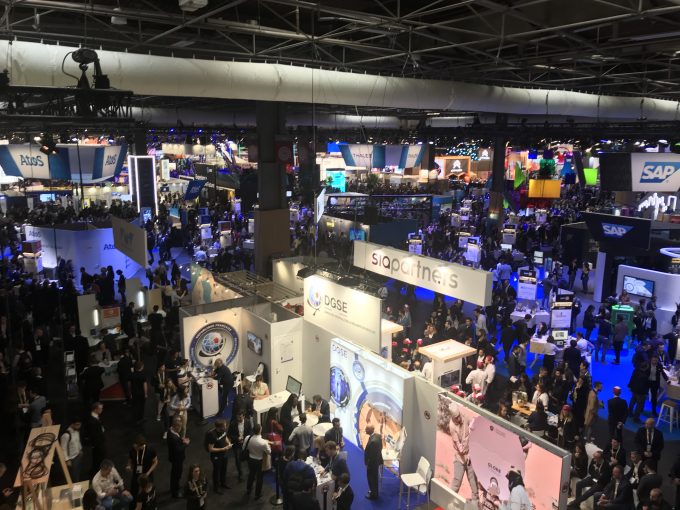 The exhibitors included large companies from various sectors of industry, such as LVMH (luxury goods), L'Oréal (cosmetics), Sanofi (pharmaceuticals), Orange (telecoms) as well as tech giants, such as Microsoft, Google, Amazon, Facebook, and Huawei.
Personally, I think the main reason why VivaTech attracts so many attendees and companies is the opportunity for open innovation between large companies and startups, and the fact that the stands and displays are so compelling and well-presented.
I particularly liked the way that, even though this is a technology event, the companies present a realistic view of customers' experiences in the near future, with the technology glitz and hype toned down.
For example, LVMH's display showed how technology is being utilized for fitting clothes and accessories, so that gave me a tangible perspective on what shopping for clothes might be like in the future.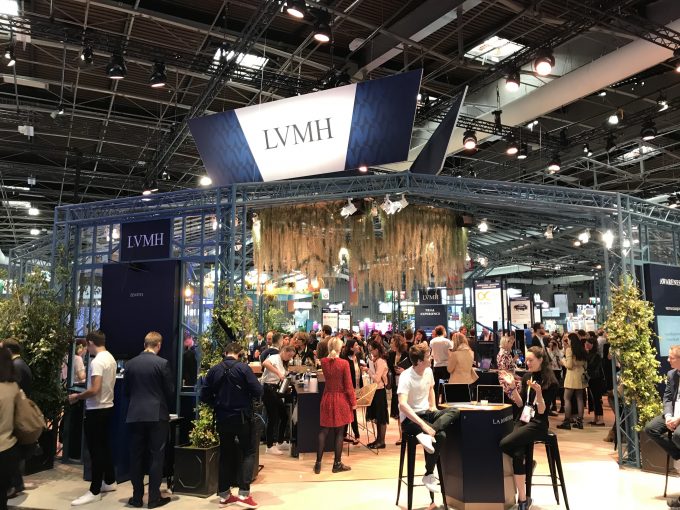 (Their stand was so hip and stylish, it really didn't feel like a technology show!)
The open innovation framework
Now, a quick word on what "open innovation" means at VivaTech.
Before the event takes place, the big companies publish a range of themes and focus areas on the VivaTech website, inviting startups with a specialty or interest in any of these to apply to make a proposal.
Those startups which are selected get to have their own display and pitch their business at the booth of one of the large companies presenting at Vivatech.
Some of these startups also get the chance to work on developing their business with these companies and benefit from investment.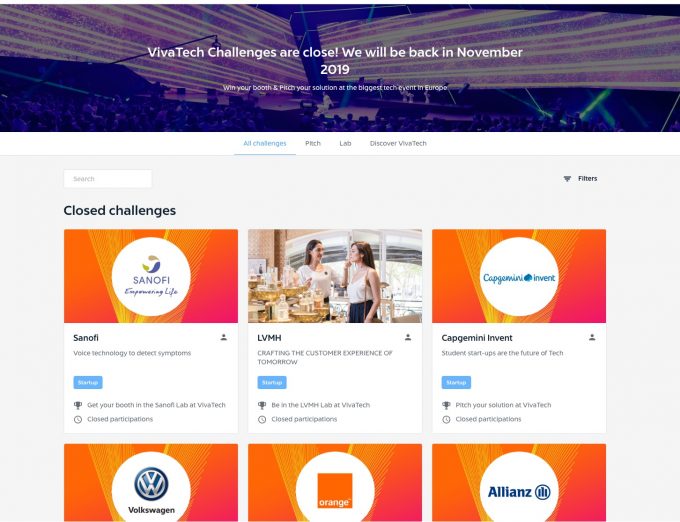 (Startups are invited to apply on the VivaTech site. Picture taken from VivaTech website).
Examples of open innovation displays
Here are a couple of examples of startups that exhibited at the company booths.
As you'd expect at a show like this there were plenty of AI-based services on display, not just software solutions but, interestingly, also some displays of proprietary hardware.
・Clothes fitting technology solution
The LVMH stand had a clothes fitting solution on display called "3D LOOK." It takes two photos of you to work out your body size, and then helps you quickly find clothes in your size.
3D LOOK picks out clothes actually sold by LVMH for you right there on the spot. It showed me what it would be like to shop for clothes in a particular look or style.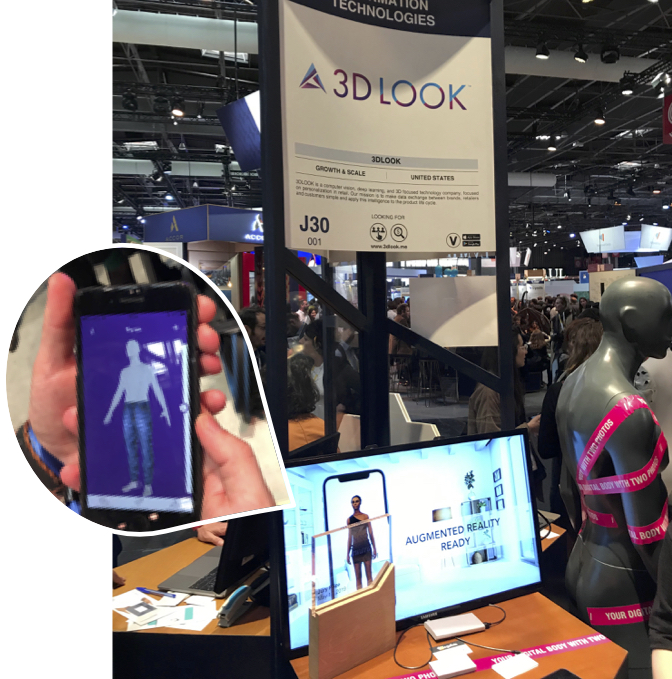 ・Wearable sensor for back pain
"SMD" was on show at the Microsoft booth. This was a pitch for a wearable sensor used for treating back pain.
I thought the notion of a medical device that can take readings and measurements to give medical advice was interesting.
The device is still at the prototype stage. They're going to review the data to see whether it can be put to practical use in future.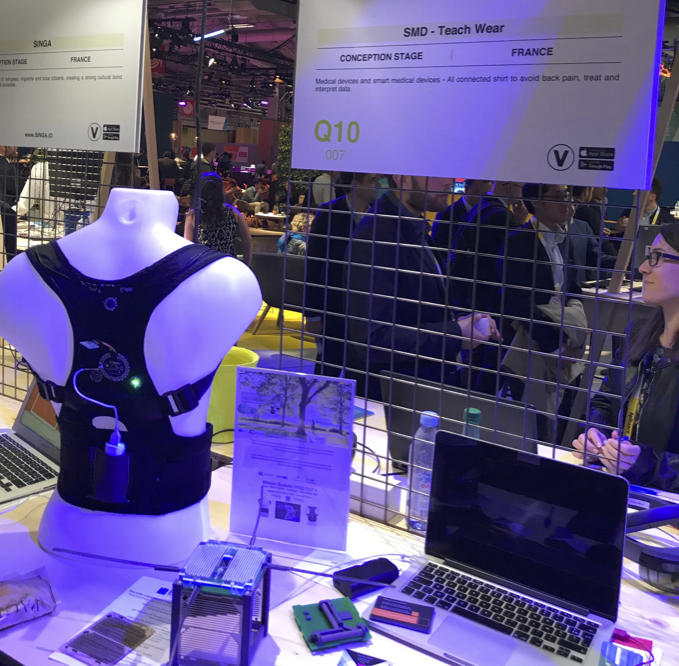 The startups were classified into three categories: "CONCEPTION STAGE", "GOING TO MARKET" and "GROWTH & SCALE", depending on the status of their business.
I was surprised at how many "CONCEPTION STAGE" products and services which were still a long way off completion, like SMD above, were being showcased. This seemed like a good way of getting a lot of feedback at a very early stage.
Other features
As well as the open innovation displays, there were plenty of other features to watch out for at VivaTech. Here's a quick overview of two of them.
Conference tracks with celebrity speakers
A number of well-known people, including President Macron, made speeches at VivaTech. When he took to the stage, the auditorium was packed and admission was restricted. However, plenty of people throughout the venue watched the speech on a live stream, and other visitors started watching when they saw who was on.
M. Macron gives a keynote address like this every year. This is because he has always taken an interest in supporting startup enterprises since he was Digital Minister before he became President. On that basis, he's always keen to lend France's support to VivaTech.
TALENT CENTER for on-the-spot job connections
This is an interesting initiative to support job hunting, from giving help with creating career plans, job searches and interviews with personnel managers at different companies.
If you're interested in any of the exhibiting companies and ready to do an interview on the spot, then this is a good way for recruiters and applicants to kill two birds with one stone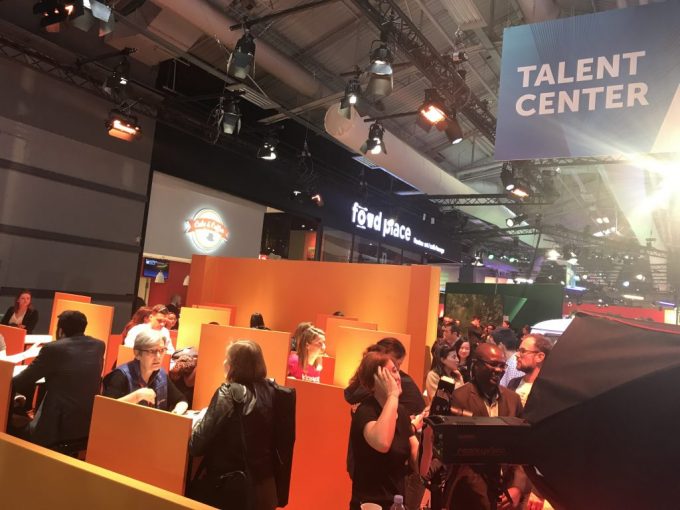 And finally…
I've mainly focused on the French-style open innovation that was on display at VivaTech. I thought that VivaTech was a great way for large companies to efficiently seek out technologies to adopt for building new businesses and services.
Of course, different styles of event may suit individual countries and companies, but I'd certainly highlight VivaTech as an excellent example of an event of this kind.