Hi there. It's Tomoya Izuhara from Advanced Technology Lab again.
Following on from my previous report, this second update focuses on the talks and presentations given on Centre Stage. These are some of the main attractions of Web Summit.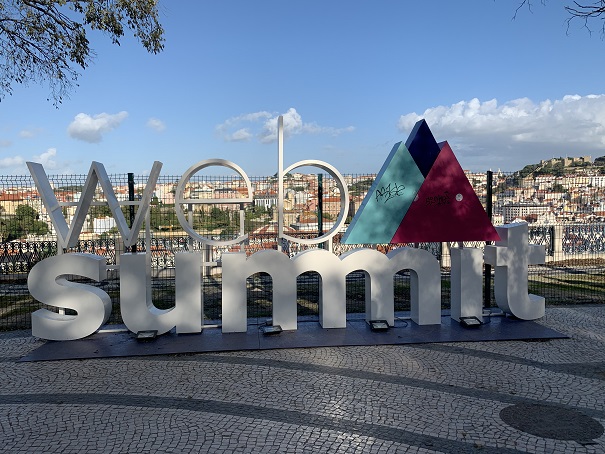 (Web Summit signs and logos can be found throughout the city)
Here are some of the topics covered by the various speakers. First up, at the Night Summit held on the eve of the festival, Edward Snowden spoke from Russia as part of a live TV conference. The hall itself was filled to capacity 90 minutes before he spoke, and the area outside was thronging with people who hadn't been able to get in. Mr. Snowden's participation was also reported on local TV news: as far as I could tell, he was all over the local media.
So, what did Edward Snowden talk about? The first question he was asked was:
"What do you do when the most powerful institutions in society have become the least accountable to society?"
"We have entrenched a system that makes the population vulnerable for the benefit of the privileged.
These people are engaged in abuse particularly when you look at Google, Amazon or Facebook."
He certainly didn't hold back on his criticism. You can see what he said in the video below.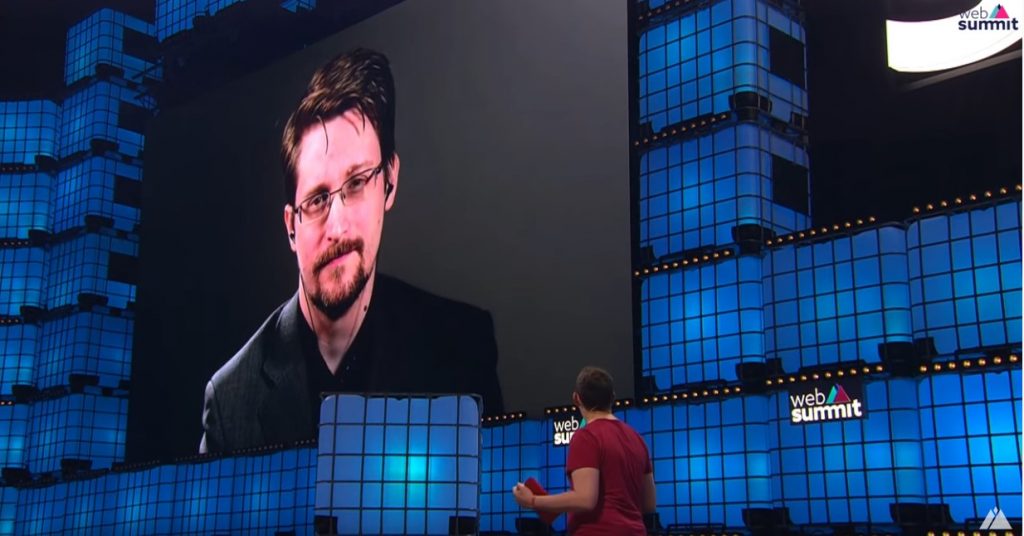 https://www.youtube.com/watch?v=X4_7A-SGLo8&t=473s
The next topic was "Consideration for the global environment."
The main idea here was to showcase various start-ups and to give them a platform to present on. Many of those who spoke on Centre Stage outlined their approach to global environmental issues as well talking about their prospects.
On the first day opening stage we were treated to some spectacular effects like the image shown below. The need for eco system initiatives was clearly highlighted with the global environment becoming ever more challenging year by year.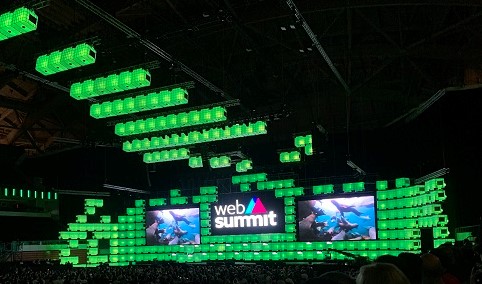 (Green lighting effects, with images of nature such as whales swimming by)
Here are some of the topics covered by the lectures on Centre Stage. These are excerpts, paraphrased as appropriate.
* Amazon
Title: "Amazon.ai"
Amazon has developed its capabilities over the last few decades to become a machine learning company. It utilizes machine learning across a wide range of areas including many where you would not expect to find it. As one would expect machine learning is heavily involved behind the scenes in user recommendations and searches.
Applications of machine learning include:
On-time delivery of packages
Forecasting demand according to type of goods (e.g. seasonal products, best sellers, seldom sold/only bought if needed)
Forecasting demand according to location (e.g. by country, by region)
Optimal location of distribution centres (e.g. optimizing establishment of distribution centers and selection of shipping locations to ensure on-time delivery)
All of this is based on machine learning. However, while forecasting daily necessities and seasonal products is relatively easy, the real challenge is identifying regional differences, or coming up with special items or new products. Forecasting demand for these is much harder. The same goes for special seasonal products. It's hard to know what sort of costumes will sell for Halloween. For example, Nicolas Cage's reversible pillowcase was a top seller this year!
Customers love Amazon Prime, but the challenge now is to speed up delivery even further. Amazon is experimenting with a drone system that can deliver goods under £15 in less than 30 minutes. The drones have a number of different sensors to ensure safe operation. When descending, they detect what is below them to ensure their flight path is clear. They have a mechanism to detect hazards like wires, which can be difficult even for human eyes to spot. Safety is critical, and this is an area in which AI can be utilized to detect issues and resolve them.
Amazon is also developing its Amazon Go store network (cashierless stores). The in-store system tracks individual customers as they move around the store and monitors the goods they pick up. It's all based on AI. Another example of a product based on machine learning is Alexa.
AI can be embedded in hundreds of different types of device and utilized for so many different tasks. Amazon AI is now used in hardware production. The company has even opened a machine language university.
* Facebook
Title: "Building Calibra and increasing access to the global economy"
If you have an internet connection today, you can access all kinds of useful services for little to no cost. But when it comes to saving, sending and spending money, it's not that simple. For many people around the world, even basic financial services are still out of reach. This is the challenge that Facebook is looking to address with its Calibra digital wallet, a new global payment system that leverages blockchain technology for saving, sending and spending Libra (digital currency).
What is the difference between Libra and Calibra and why did Facebook decide to create them?
Calibra is a digital wallet system that is open to anyone to use. It is a subsidiary of Facebook, but Facebook is just one of the project's many participants, with other third parties having the same rights and capabilities. The concept of Calibra is for it to be as universal as e-mail. There are certain set processes, but otherwise individual users have a high degree of flexibility in how they use the service. Anyone can use it as a way of cutting out the middleman. Financial institutions can also utilize it as a way of improving their systems.
Congress in the US has reviewed the service and has expressed its concerns over such an early entry for Facebook into the digital currency space. Such criticisms seem inevitable in the current environment: this sort of scepticism often happens when new initiatives are first launched. However, there are already 22 companies taking part in Calibra and Facebook's commitment to globalizing this initiative remains undiminished.
* Microsoft
Title: "The promise and peril of the digital age"
Where do we think technology is headed over the next 10 years? Today, the nature of computer access has changed. Cloud computing technology has emerged and spread throughout the world. As a result, our data usage is now 25x higher than it was in 2010. The role of AI is indispensable and AI will inevitably play a critical role in the future development of technology. However, the more powerful AI becomes, the more easily it can be used as a weapon, breaking codes, breaching security or engaging in cybercrime.
By 2050, AI is likely to have changed the world. A future where key decisions are made by machines and AI rather than humans is like something out of a movie. This could be very dangerous. It's no longer about what computers can do, it's about what how they should be used. If we don't approach this problem properly now, there will be a heavy price to pay in the future. Future technology development requires an ethical perspective.
Therefore, rather than simply enthusing about new features and innovations, we need to take stock and consider whether these new developments will actually contribute to the greater good.
* Uber
Title: "Uber's road ahead"
Uber launched a new scooter rental service in Lisbon recently (Jump). People in Lisbon currently travel 14 million kilometers per year by bicycle or scooter so there is clearly a need for a service to meet this demand. The concept offered by Uber is that users can access transportation from Point A to Point B just by clicking on a map. In other words, Uber is offering a service that combines all means of transportation into one. The idea is that a wide range of services in conjunction with other apps are available at a click.
Users can also use competitor apps at the same time as they install and use apps from Uber. People use different apps depending on their purpose; moreover, apps can be tailored for specific situations, including uber apps as well. In this way, Uber's view is that it can cooperate with rival apps rather than just competing against them.
In terms of Uber's financial services offering, many of its contracted drivers do not have a bank account when they first sign up. That's why uber introduced Uber Money, which is currently rolling out on the Uber platform: the original purpose of the service was as a check on driver suitability and credentials. Even if you don't have an account, you can still receive money or use Uber Money for transferring currency.
The premise of Uber's business is to offer services on a long-term basis to its users. With the core business in place, a business plan has been finalized for investment up until 2022. The group is now working hard to acquire new users for a range of different services. For example, in Nigeria, it has a launched a new waterway service, UberBOAT, in cooperation with the government. By 2023, it expects to have launched a new flying taxi service.
* Verizon
Title: "Are you ready for 5G? "
Despite a significant marketing push, many businesses and consumers have yet to understand just how innovative 5G actually is and to appreciate its full potential for businesses, consumers and society over the years to come. This fourth industrial revolution is a wonderful opportunity. (* Writer's personal opinion)
The first half of the talk primarily described the functions and capabilities of 5G, while the second half was about the costs involved. In terms of functions and capabilities, this part of the talk covered details that are already pretty well-known about 5G. What was interesting in the second half was Verizon's perspective on environmental issues. By reducing energy consumption and investment in infrastructure development, 5G can contribute to expansion in an environmentally-friendly manner.
* Wikipedia
Title: "The future we build needs to be open"
In the world today, knowledge is in crisis. With so much fake news out there, how do we find out the truth? Our need for knowledge is as strong as ever. There are hundreds of millions of people who use Wikipedia every single month.
We trust that the currency in our wallets has value. We trust the workings of the world around us. Without trust, the systems we take for granted would simply cease to work. And it seems that we are now in a crisis of trust. In the world today, information is distorted, trust in democracy is under pressure and the freedom of the press is undermined. The crisis of trust is a major issue for all of us. Without trust, we cannot progress and move forward. This crisis leads to division and polarization and causes a breakdown. This is a challenging situation to be in, to say the least.
When WikiPedia was created, the company did not expect a crisis such as this to arise. However, a crisis can sometimes be an opportunity, as history has proven. Humanity evolves through transcending crises. It may sound quaint, but when cultures meet, people develop through sharing their humanity, with mutual recognition and understanding, regardless of different languages or histories. This is best achieved through making information and knowledge open and free. Knowledge is proof of our humanity. In this sense, the Wikipedia platform is the output of our humanity. It works to resist and resolve the crisis of trust, with everyone cooperating in the writing of knowledge. This is a wonderful phenomenon.
Developing our capacity for connection will lead to improvement. You can set up an empty page or start a new page. Today, Wikipedia is so much more than an encyclopedia, it is a place where people can connect and make great changes. An entire encyclopedia starts with a single edit and grows through the help of hundreds and thousands of different people.
The overall message is that people should trust each other.
============================
I hope you'll agree this was a very impressive line-up of speakers with some very thoughtful and interesting content. The Centre Stage also featured speakers from other well-known companies and organizations, including Google and Boston Dynamics. Not all of the lectures appeared to be technology-related. For example, there was a talk entitled, "One year out: Will Trump be re-elected?"
My next update will be the last in this series. In it, I'll tell you some more about the exhibition venue itself.