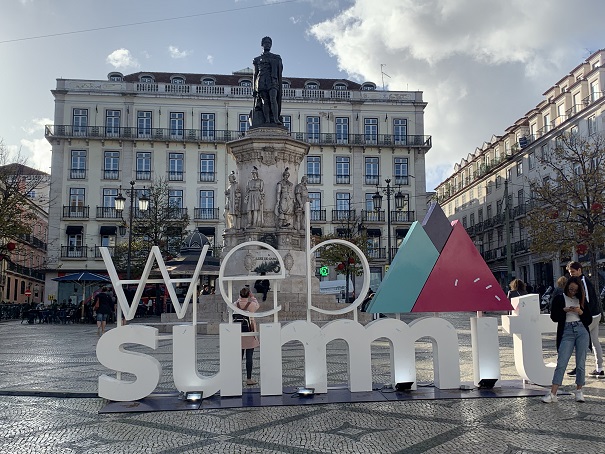 Hi there. My name is Tomoya Izuhara from Advanced Technology Lab.
This is the first of three reports on Web Summit 2019, Europe's largest technology conference, which began on November 4th. In this first installment, I'll give you an overview of the conference.
Web Summit was described by Forbes magazine as "The best technology conference on the planet". It's a huge event featuring a high quality line-up of speakers. However, it's not so well-known in Japan as yet and the number of attendees and companies participating from Japan is surprisingly low. I didn't really come across many Japanese when I was there.
Comparison with peer conferences
 
Venue
Number of visitors
Number of exhibiting companies
Number of speakers
Number of participating CEOs or equivalent
CES2019
Las Vegas
175,000+
4,500+
1,000+
18,000+
Mobile World
Congress 2019
Barcelona
109,000+
2,400+
– (*)
7,900+
Web Summit 2018
Lisbon
70,000+
– (*)
1,200+
11,000+
RISE
(Largest in Asia)
Hong Kong
10,600+
– (*)
350+
– (*)
*No official numbers available
Web Summit may not have quite the same audience pulling power as CES, but in terms of actual number of speakers and participation by CEOs, it's actually slightly ahead of both CES and MWC. The talks and lectures on Centre Stage are amazing.
Here are some pictures from the opening of the Centre Stage this year.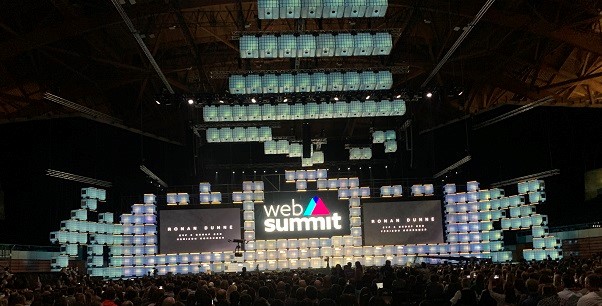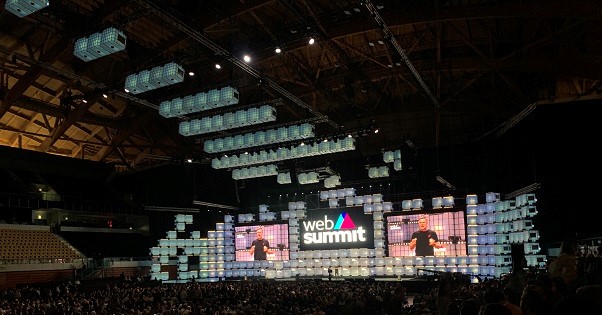 What kind of event is Web Summit?
Web Summit was first founded in 2009 in Dublin, Ireland, by Paddy Cosgrave, David Kelly and Daire Hickey. It continued to be held in Dublin until it moved to Lisbon in Portugal in 2017. Since then it's evolved into a much larger event.
Web Summit 2019 had 24 stages with different speakers in the different tracks and on Centre Stage.
In addition to the conference, there was also a large exhibition area as well as a pitch competition (PITCH) for start-ups in the lecture hall. Centre Stage is the main stage and this is where you can hear speeches by a whole host of unique speakers such as CEOs and CTOs, or members of the European Commission and former heads of state.
The event is known in the IT industry as Europe's largest startup conference. There are so many startups here, it's like a showcase of leading start-ups.
Here are some of the tracks from the conference
■ Auto/Tech
Autonomous vehicles and related technologies. Featuring topics related to the mobility industry, including Uber and other modes of transportation.
■ Binate.i(o) data
Data science track. In-depth look at topics such as AI and machine learning.
■ CORPORATE INNOVATION SUMMIT
Focused on the world of business, with CEOs and corporate leaders among the wide range of speakers discussing the major business issues of the day. Also featured lots of panel discussions to enjoy.
■ FULLSTK
Focused on developers and data scientists. It's a must visit for all computer engineers.
■ HealthConf
Medtech sector track. This industry is full of exciting startups, many of which were showcased in the exhibition area. A great overview of the sector's long term growth potential.
■ MONEYCONF
FinTech continues to thrive. As well as this track, there were a number of FinTech booths in the start-up presentation area. Many of the talks on the Centre Stage were about how Facebook and Uber are looking to incorporate fintech into their platforms.
■ planet:tech
Featured discussions about the global environment. Environmental protection is a critical topic for future European conferences. An independently operated track highlighting companies' growing awareness of environmental issues and what they are doing to tackle these.
■ Sports TRADE
The only entertainment track at Web Summit, with participants including esports and biometrics groups, as well as measurement and analysis companies. Personally, I thought this was the most enjoyable track. There was even an appearance from soccer legend, Ronaldinho!
■ STARTUP UNIVERSITY
This could well be the highlight of all the tracks, with talks and lectures focused on startup businesses. The atmosphere here is always buzzing. Google amongst many others has been a participant here.
You can find more information on all these tracks in official website.
Web Summit sounds like an amazing event, don't you think? I hope this has stimulated your interest.
Next time, I'm going to tell you about some of the presentations on Centre Stage, which are a key feature of this event.