Hi, this is a special project team at ATL.
We mentioned the project "Female college students produced a smart accessory design by themselves!" project twice before. Now we will report a follow-up.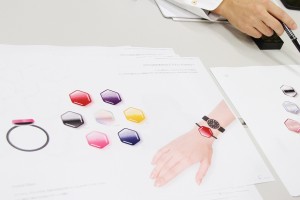 We introduced the meeting about the way of use where the female students proposed and about their likes of the designs of the accessories, so that the designers and the female students arrived on the same page. The designers accepted the students' ideas, and then they made the ideas into a design. This project was the first trial for the designers, who have a lot of experience in the product design, and also it was the first time when they made the female students' ideas into a design. Saying "This project has a very high degree of difficulty, but this is also inspiring", that one of the designers became extremely motivated to design the accessories. So, what nice designs came out?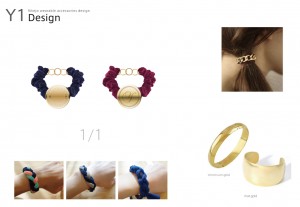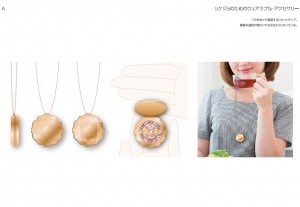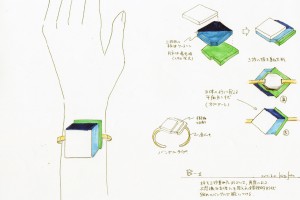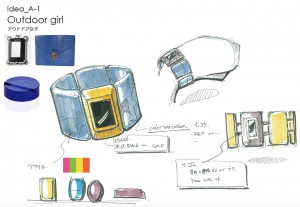 The design came out as rough sketches like you see here. We got various kinds of students' feedback from good ones such as "Kawaii!", "This is the image I had in mind!" to other ones such as "This is not the image I had in mind…", "Something like a knitted sweater catches on this pointed top, so I want it more rounded." They got serious because the accessories should be put on in daily life. The more meetings we had, the more sophisticated design came out. More than 30 patterns of the design in total were proposed by designers and the good ones were narrowed down. What we were attracted was the design by Rikejo students. "I want the design to be what tells Rikejo's character", "I want the design which science students are attracted to", "Could you blend something scientific like Benzene ring into the design?", which of all of the demands by the students made the designers puzzled.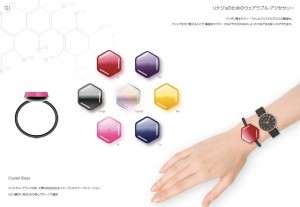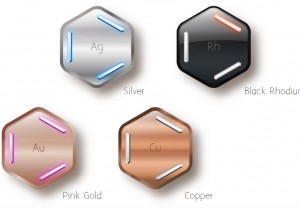 As a result, the accessory looked like just an accessory at a glance, but when you observe one closely, you can see the design which won the Rikejo students' hearts such as the design of the hexagon Benzene ring in which the chemical elements are engraved. The design was full of hidden Rikejo factors, which were, for example, the colors of the design matched each chemical element and also matched the combustion reaction. The meetings were held over two months again and again with the female college students and designers. We mastered the complete design into 3D data, and now we are in the stage of the creation of mock-ups. What the designs will be like… they will be released for the press tomorrow!
At the same time of the press release, a special web site will be ready for when final design is unveiled. Please stay tuned to the next report on how the press release goes.