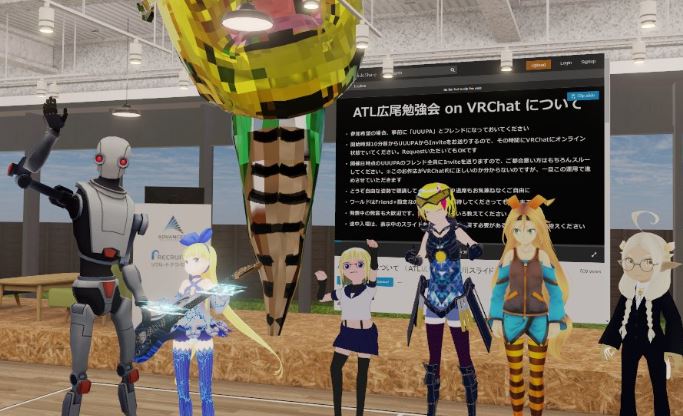 July 3rd marked the 5th meeting of the bimonthly virtual study group ATLHIROO, held in an eponymous VRChat world designed by yours truly to resemble the ATL Hiroo office.
*This post was written by UUUPA, a visiting researcher at ATL. Anyone can register as an ATL visiting researcher for unlimited access to the newest VR technology, free of charge. If you happen to be located within commuting distance of Hiroo in Tokyo, I highly recommend stopping by to sign up for the visiting researcher program.
5th Study Group: Presentation Topic
Seeing as how my investigations into VRChat to date had primarily centered around world creation, I'd long been itching to finally try my hand at avatars. I recently began developing avatars using an open source 3D modeling suite called Blender, and the 5th study group seemed an ideal forum to share what I've learned about the software.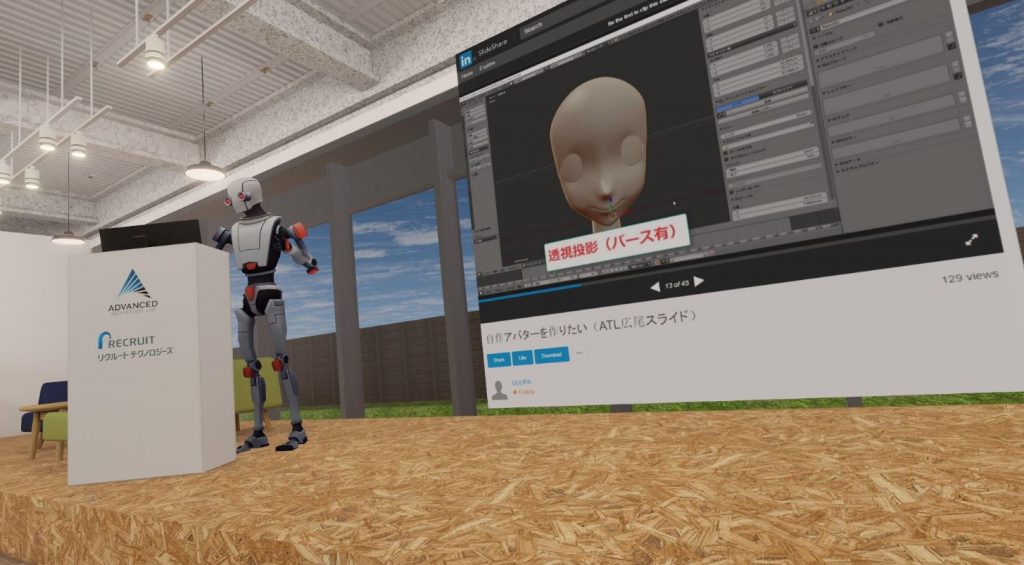 Objectives of the ATL Hiroo Virtual Study Group
In a previous post, I discussed my impressions on holding a study group in a virtual space. After the successful completion of each meeting, I feel I grow a bit more accustomed to the unique virtual format. As the ATL Hiroo virtual study groups are currently a one-man operation (with me at the logistical helm as well as the lectern), I try to ensure that the sessions reflect my own personal preferences, as outlined below.
1. Interruptions are welcome!
In real world study groups, audience members are usually unable to interact with the speaker outside of designated Q&A slots. However, participants in VRChat virtual study groups can provide simultaneous feedback in response to the presentation. This is one of my favorite features as a presenter, and I think this new style of study group is very beneficial for all participants.
In VRChat, avatars default to a standing pose, which I think helps facilitate discussion: it's much easier to talk when it looks like everyone is simply standing around for a friendly chat, as opposed to a formal presentation.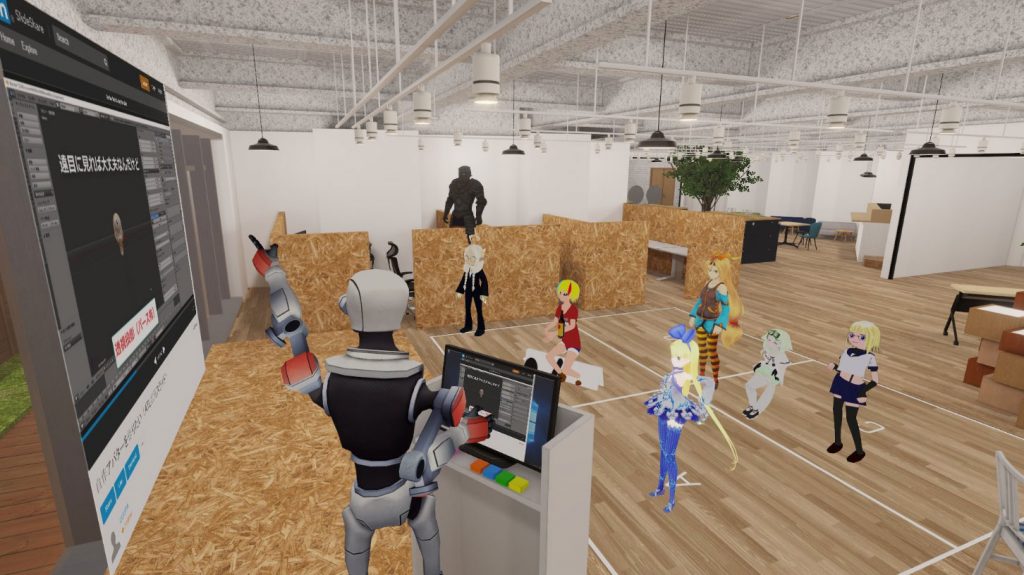 2. Advance access
Study group sessions are announced on my Twitter account on the day of the event. Let's be honest, people tend to forget about events if they're notified days in advance, and besides, I want attendance to have a fun, casual feel. (External link: actual announcement Tweet).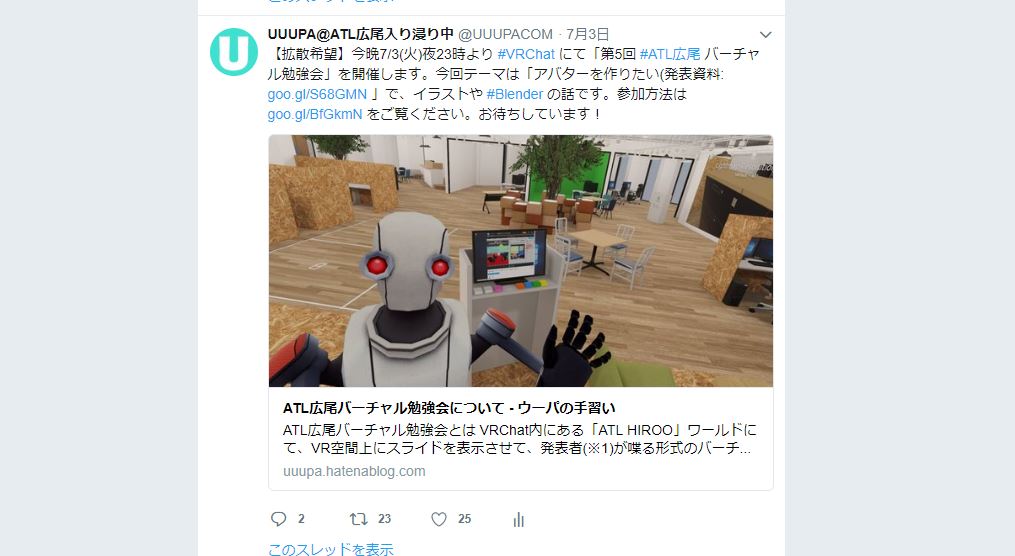 All slides featured in the study group presentation can be accessed in advance via a link in each respective announcement Tweet. This sneak-peek allows people to readily gauge interest in the subject matter. If they're interested, they can join the study group. If not, they know to sit the meeting out. Moreover, the slides function as an advance indicator of the presenter's skill level. This preview helps manage expectations, ultimately leading to a higher degree of participant satisfaction. As the study group's participants are self-selected, their comments are especially fruitful, leading to a deeper, synergistic discussion of the subject matter.
Knock on wood, but we've still seen a lively turnout despite making the entire presentation available in advance. Conversely, these sanctioned spoiler alerts have given me all the more motivation to polish my presentation skills and offer an engaging performance.
3. Easy come, easy go
I think virtual study groups are intrinsically more relaxed than their real-world equivalents. After all, participants merely need to don an HMD (*VRChat only requires a PC) to join the action from the comfort of their own home.
Participants are free to leave the room mid-presentation. There's no need to sheepishly clamber over your neighbor — exits are silent in the VR world. Granted, some civic-minded participants do offer a parting message before logging off, but it's not necessary. (I promise it won't hurt my feelings if you don't.)
Knowing that everyone has logged-in at home in their precious free time actually contributes to the feeling of community. I can't help but smile, imagining the participants suddenly vanishing from screen to chase after their kids or get ready for bed in the real world.
4. Open mic policy
Although this is one tenet that hasn't yet come to fruition, anyone can volunteer to become the keynote speaker, presenting/manipulating their own slides on the screen in ATLHIROO world.
I'll be the first to admit that there's plenty I don't know. Going forward, I hope that others will use the platform to give more specialized presentations across a variety of genres. If you're interested in giving a presentation, please feel free to reach out to me on Twitter @UUUPACOM.
*It would be great if speakers could receive some compensation for their time. Hint-hint… are you listening, RECRUIT!?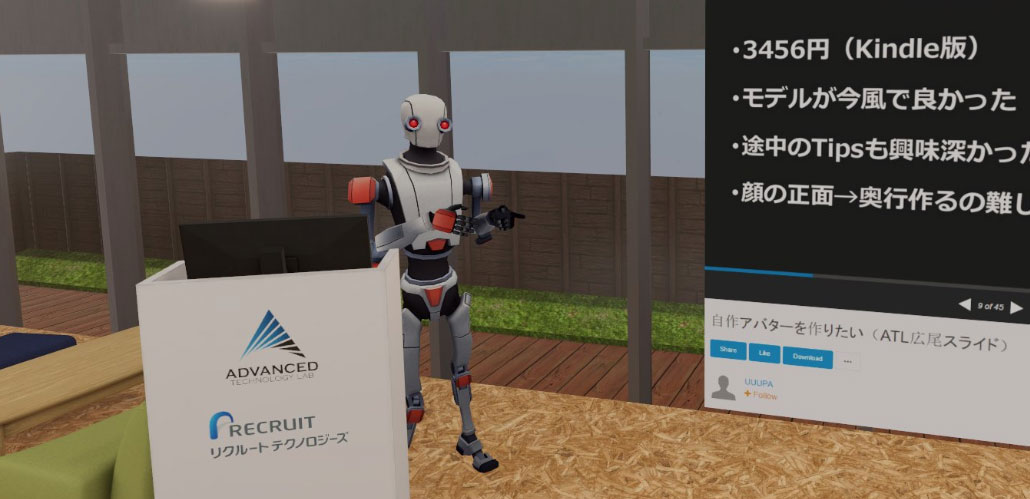 5. All are welcome (even newcomers)
Thus far, each study group has focused on a different theme*, running the gamut from 3D modeling to texturing, lighting, and character development. Naturally, each seminar has in turn attracted a distinct group of participants. This is a good sign. I hope to further cultivate this culture of inclusivity, where even newcomers can feel comfortable joining in the middle of a session. As the project's organizer, I try to avoid using genre-specific buzzwords, and don't encourage in-group favoritism amongst the regulars who always show up at each session.
But fortunately, there's really no need for much top-down intervention. The advance sharing of slides and inclusive policies enumerated above have, on their own, served to attract a group of like-minded individuals, automatically contributing to a palpable sense of community. I truly look forward to speaking with new members at each session.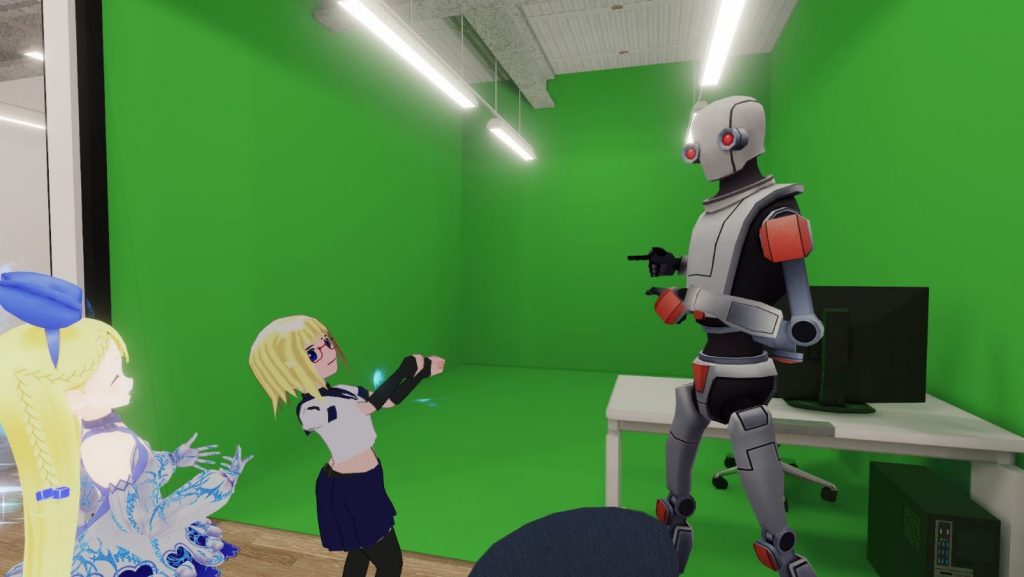 *That said, as the study groups are hosted on VRChat, I've tried to select topics that are at least tangentially related to VRChat development.
---
Going forward, I hope to continue hosting sessions at a pace of around two per month. Event announcements and signup information can be found on my blog.
→ About the ATL Hiroo Virtual Study Group – Extracurriculars with UUUPA (external link)