Advanced Technology Lab (ATL) is an open innovation space operated by Recruit Technologies. As part of our commitment to encouraging talented engineers with an interest in further developing cutting-edge technology, we're pleased to announce a new development space that will be open to the public, free of charge.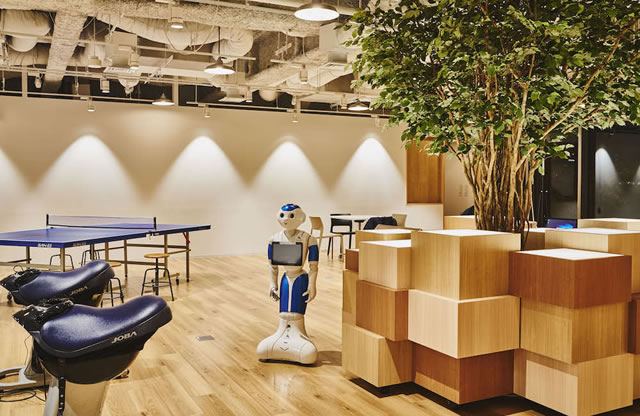 Concept
Advanced equipment and development environments are expensive, especially when it comes to VR. It can be hard to keep up with all the new tools released on what seems like a daily basis. Let's face it, these hurdles can be daunting for students, individual engineers/creators, and even small-scale companies.
We understand how frustrating it can be when you have a great idea to use new technologies, yet nowhere to put these ideas into place. That's why we've opened ATL as a venue for the creation of new value alongside engineers/creators on the industry's frontlines.
Advanced Equipment for VR Development
This year, we've bolstered our VR (virtual reality) facilities.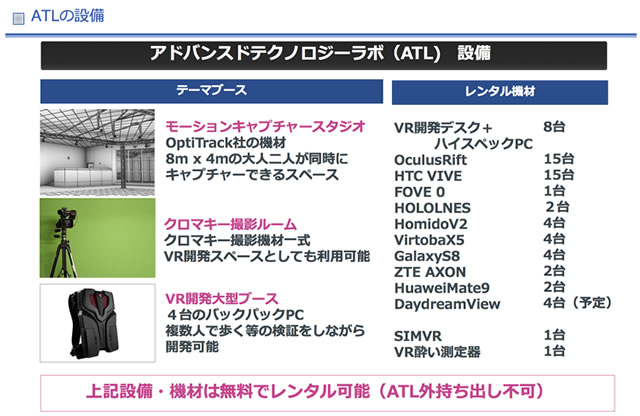 Onsite you'll find motion capture equipment, greenscreen room for chroma key compositing, high-spec machines optimized for VR development, head mounted displays from an array of manufacturers, HTC VIVE, Oculus Rift, and more. Engineers eager to try their hand at the development of VR content utilizing this advanced equipment are welcome at ATL.
Although prior reservation is required to use the facilities, full access is provided free of charge.
ATL Use
If you would like to use the resources available at ATL, you will first need to complete membership registration as a Visiting Researcher. There is no fee associated with membership, and Visiting Researchers are granted access to ATL's facilities/equipment.
ATL retains the right to feature images of work developed/created by Visiting Researchers using ATL's facilities/equipment on the ATL website's "ATL SHOWCASE." However, rest assured that apart from these photographs, all copyrights or other associated intellectual property rights will belong to the Visiting Researcher.
Registration as an ATL Visiting Researcher is free.
The facilities will be available to the public from Monday June 26th. Advance applications for Visiting Researcher registration are being accepted now. Please address all inquiries regarding the ATL Visiting Researcher program and registration requests to the following email address:
info@atl-hiroo.jp
Facility Access
Address: YMATS Hiroo Bldg. 4th Floor, 3 Chome-12-36 Hiroo, Shibuya, Tokyo 150-0012(Located in the same building as the Yamatane Museum of Art) (Map)
Size: Approx. 496m2 (building built in 2009)
Access:
10-minute walk from Ebisu Station
Bus service is available from JR Ebisu Station/JR Shibuya Station (1- to 4-minute walk to the bus station from ATL)
From Ebisu Station, take the "Gaku 06" service bound for Nisseki Medical Center (Japanese Red Cross Medical Center) and get off at the "Hiroo Kōkō (Hiroo High School) Mae" stop. (Approx. 3 minutes) (Bus Stop)
From Shibuya Station, take the "Gaku 03" service bound for Nisseki Medical Center (Japanese Red Cross Medical Center) and get off at the "Higashi 4-chome" stop (approx. 9 minutes) (Bus Stop)
Open to the Public from June 26th (Mon.)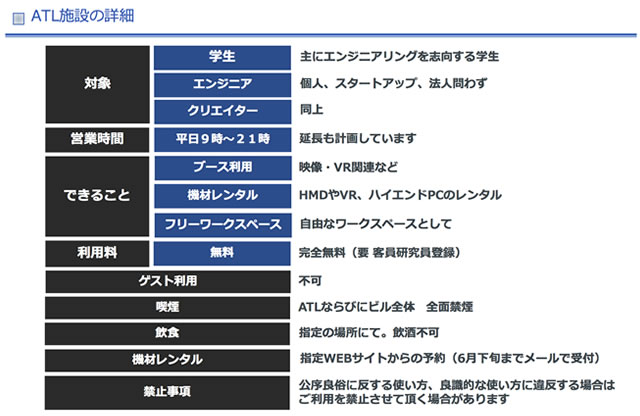 ATL Visiting Researcher registration is required. Please contact ATL at the below address before your first visit.
info@atl-hiroo.jp
Once the public program commences, we plan to provide ATL Visiting Researchers with access to a member web portal from which you'll be able to check equipment vacancies and place reservations online.